Developing Antagonists
I have a big liking for villains. I suppose Once Upon A Time is rubbing off on me. Their backstory is as interesting as the plot itself. Weaving a tale of doom and gloom to explain how an ordinary person became entwined with the forces of darkness is enchanting to say the least. A familial feud or vengeance fuelled by the flames of love. The possibilities are endless.
An antagonist has to be as well developed as a protagonist. Their backstory is as intricately detailed as any other main character. The extent to what a villain will do to gain vengeance is surprising. Their unwavering belief that someone or something caused their unhappiness like a curse upon their very soul.
This is why I find villains fascinating. I have written short stories in the perspective of demons where the heroes are defeated but the most interesting of all is where there are no heroes and villains just were evil is everywhere in people (or should I say vampires.) Delving deep into perspectives and seeing events from an alternate viewpoint can be very eye-opening and helpful in character development.
Evil villains are no longer just the idiots in cartoons just as heroes cannot just charge ahead and defeat their arch nemesis. Getting deep into your villain's mind may inspire you to write a short spin-off from their point of view because although villains are the bad guys they are people like every other fictional character.
---
THE ROGUE'S ODYSSEY (Excerpt)
Poem
It was the dead of night, on horseback I fled,
fled from the knights of the realm.
Their intent, to flay me alive,
was keeping me going, keeping me going.
A rogue I was, honourable though,
but they were scarce in supply.
They hit me, dead, dying, I fled,
traversing through the wood.
I had to survive, survive I did,
through the snowy wood.
I stopped for a second, to revel,
in its wondrous beauty,
but I had to keep going, had to keep going.
This journey I had to make,
the dangers worth the rewards.
The money was good, oh the pay was great,
A wizard was paying my way.
There was a more, primal reason,
a directive I had to follow.
The fate of the kingdom, rested in me, rested in me,
despite the knights following.
The knights,
corrupt they were,
twisted by the darkness.
Their lord,
dark at heart,
instigated the curse.
Read on when you Pre-Order at only $0.99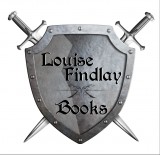 Louise Findlay writes fantasy (generally short stories) and inspirational poetry. She enjoys reading and writing about mythological creatures such as angels and demons but has a soft spot for vampires. Louise is currently in the midst of writing a vampire novella about two vampire clans whose deputy's clash in a big way, entitled A Spy in the Sagax Vampires.
She generally writes ebooks but she's apart of a few anthologies which are in print and plans to release a print verson of a collection of poetry at Christmas time this year.
Find her other eBooks at her Smashwords Author page
Add her as a connection on LinkedIn